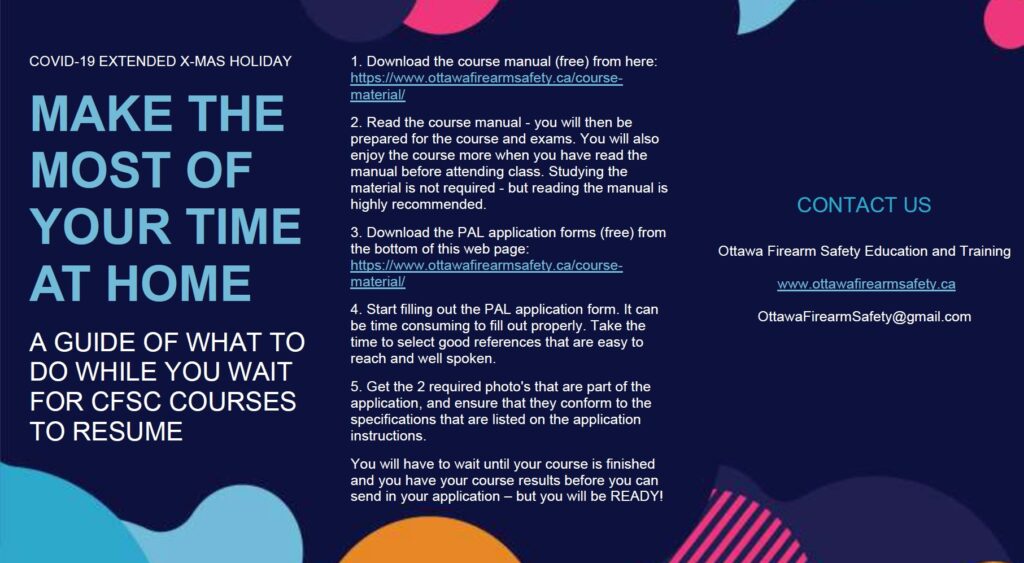 Thanks to COVID, we have an extended X-mas holiday this year in Ontario.
Just because courses are not being scheduled at the moment, it doesn't mean that there isn't lots of things you can do to get ready for a summer and fall of shooting and hunting adventures.
Here is a guide of things you can do to make the most of your time so you can get things rolling:
1. Download the course manual (free) from here: https://ottawafirearmsafety.ca/course-material/
2. Read the course manual – you will then be prepared for the course and exams. You will also enjoy the course more when you have read the manual before attending class. Studying the material is not required – but reading the manual is highly recommended.
3. Download the PAL application forms (free) from the bottom of this web page: https://ottawafirearmsafety.ca/course-material/
4. Start filling out the PAL application form. It can be time consuming to fill out properly. Take the time to select good references that are easy to reach and well spoken.
5. Get the 2 required photo's that are part of the application, and ensure that they conform to the specifications that are listed on the application instructions.
You will have to wait until your course is finished and you have your course results before you can send in your application – but you will be READY for your firearms licence!
6. Don't forget that you can take your Hunter Safety course ONLINE right now – only during COVID. It has never been easier to get your Hunting Licence. You can take this course right away and take your firearms safety course later.
Visit here for more details: https://ottawafirearmsafety.ca/hunter-safety-course…/
7. We will be resuming courses as soon as possible. Follow us on Facebook, or check here for updates.